» Back in action.
posted on 06/12/06 by
Opie
ATTENTION FIREFOX USERS, let me know if the videos now play correctly for you. Thanks


You know that shit hurt.




This dude is crazy.




He doesn't slip in water.




Back to the future.




Pink's tittie.




He can reload fast.




Stealing an ATM machine.
Joke
A couple has been married for 50 years and are celebrating their anniversary. The wife asks what the husband wants for their anniversary and he replies, "I would like you to perform oral sex on me. In the 50 years we have married NEVER have you ONCE done this to me."
She replies, "It's just that I'm afraid that you won't respect me afterwards."
"Won't respect you afterwards! he yells, we have been married for 50 years for Christ sakes!"
"OK! OK! I'll do it just this one time!" She then bends down and gives him oral sex until he has an orgasm in her mouth. Immediately afterwards she runs to the bathroom. The phone rings next to the bed and he picks it up. He then yells to his wife, "Hey Cock sucker! it's for you!"
Some Images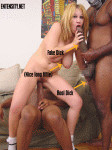 Here's another!




I met the Hemi guy Saturday night.




Haha.




That's crazy.




Ass implants?
Joke #2
A drunk walks out of a bar and sees a nun standing at a bus stop. He walks up to her and punches her in the face. When she falls to the ground he begins kicking her and screaming,
"You're not so tough tonight are you Batman!"
- FFL -
-
Yikes!
-
Sexy girls.
-
Bum fight.
-
Bless you.
-
Caveman porn.
-
I'd do them all.
-
Ohh.. That's nice.
-
This baby is scary.
-
This guy is just silly.
-
Paris Hilton is a cunt.
-
Playing golf topless.
-
Masturbating sisters?
-
Spaceballs the series?
-
Chriss Angel is strong.
-
Lindsay Lohan sucking.
-
Annoying alarm clocks.
-
Some funny shirts here.
-
We all love Jessica Alba.
-
This kid is great at pool.
-
The traffic in India is crazy.
-
Eating a lot of monkey food.
-
Hey look, it's a black pirate.
-
The Internet may go to shit.
-
Jessica Alba MTV MI3 parody.
-
This dog talked. That's crazy!
-
A bunch of girls being "depants".
-
Office sex with great titties involved.
-
More Alba at the MTV Movie Awards.
-
Captain Copyright would be Canadian.
-
Sell your soul to Satan. (I like #6, haha)
-
A big BLACK bear scared of a cat. Pathetic.
-
This game is fucking awesome and I'm dizzy.
-
Seth MacFarlane (Family Guy) speaks at Harvard.
-
Rock Paper Scissors on A&E today. Should be stupid.
-
What if this Sea monster asked you for about tree fidty?
---
» Finally
posted on 06/09/06 by
Opie
I apologize for the lack of post this week and should be back to normal next week. The speed issues shouldn't be a problem for you either anymore. Thanks for not bitching.
ANYWAY (Was suppose to have more)..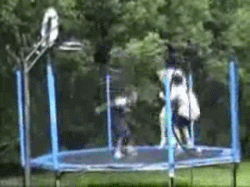 I like how his friends just laugh.




I need one of these.




Josie Maran
Joke
A man walks into a bar, sits down and orders 10 shots of tequila.
The bartender pours the shots and asks the man if he is feeling OK. The man responds by saying that he is fine and hes actually celebrating his first blowjob. He then knocks back all 10 shots one after the other.
The bartender says to the man, "Hey, since it was your first blowjob, let me buy you another shot."
The man replies "No, no... if 10 shots of tequila doesn't get the taste out of my mouth, nothing will."


People are dumb...




That's a fake dick.




100% real.




You tell me.
- FFL -
-
Clerks II.
-
3D game.
-
Jello jiggers.
-
Sexy MILFS.
-
Pretty lights.
-
Fingering Skills.
-
Kate goes anal.
-
Great tits on her.
-
Test your lungs.
-
This game is fun.
-
Naked in the park.
-
What a dumbass...
-
Don't say anything.
-
Giant hamster cage.
-
This is just retarded.
-
Just some naked girls.
-
She is fat and nasty.
-
Brokeback Parody 200
-
Lingerie fashion show.
-
Spiderman 3 pictures.
-
Jessica Alba compilation.
-
Put your hands in the air.
-
Watch out for spectators.
-
Dane Cook: Insomniac Tour.
-
Go slow and you could die too.
-
Vida Guerra Playboys pictures.
-
The guy that caught Bonds 715 homer.
-
Making your own boat out of bottles..
-
The Texas Chainsaw Massacre prequel.
-
Jamie Kennedy's Rollin with Saget music video.
---
» Quickly..
posted on 06/07/06 by
Opie


Here's your W.O.W
I'll have the funny goods on Friday night.
---
» Number 2
posted on 06/05/06 by
Opie


Pay attention to the fence behind Bush.




He forgets the words...




This is a cool arrowhead.




These videos are always fun.
Joke
Doctor Dave had slept with one of his patients and felt guilty all day long. No matter how much he tried to forget about it, he just couldn't. The guilt and sense of betrayal was overwhelming. But every once in a while he'd hear an internal, reassuring voice in his head that said:
"Dave, don't worry about it. You aren't the first medical practitioner to sleep with one of their patients, and you won't be the last. And you're single. Just let it go, Dave."
But invariably another voice in his head would bring him back to reality, whispering:
"Dave.....
Dave.....
Dave, you sick bastard
You're a vet."
Images


Haha #1




Haha #2




Howard Stern show rules.




That would be crazy.




That a third nipple?




Still?




To small.
- FFL -
-
Lost babe.
-
Shower BJ.
-
Is this rape?
-
Sexy videos.
-
Girls on Girls.
-
Photo budgers.
-
Uhhhhh... Yeah.
-
Sexually twisted.
-
Eating a cactus.
-
Hot body on her.
-
News from Vegas.
-
Cork soakers. (SNL)
-
The egg came first.
-
British accent guy.
-
Use the "safe" word.
-
Dumbass students..
-
Gangbang zombies!
-
Fashion show video.
-
Free hardcore videos.
-
These kids really suck.
-
Check out this drifting.
-
String throw neck trick.
-
Paris Hilton can not sing.
-
Check out the 2nd video.
-
You'll like this puzzle game.
-
Jamie Lee Curtis is still hot.
-
Taking naps on fighter jets.
-
Chase Scene from District B13.
-
Jessica Alba: MTV Movie Awards.
-
Behind Kelly Clarkson' Hazel Eyes.
-
Have fun moving squares around...
-
The movie recommendation engine.
-
Chappelle's show DVD out July 25th.
-
Escaping out of prison James Bond style.
-
Casino Shootout scene from District B13.
-
"Woman wins $2 million in matchmaker suit"
-
Only posting because he died. (Horse and a dude, Nasty stuff)
---
» Good stuff today.
posted on 06/02/06 by
Opie
Apparently people in school don't have computer at their house, because I'm missing my usual visitors... ANYWAY:


Same guys that did the Juggernaut video. (It's great)




Test on wearing a ski mask in public.




They scare a bunch of people.




Pretty cool trick.




Compilation of bloopers.




Nigger robbing an old lady. Yes, I typed Nigger.




Tons of models unite. Hooray.
Joke
HOW TO TREAT A LADY
I didn't write
1. When she asks how she looks shrug and say "could be better" this will keep her on her toes and girls love that.
2. Never hold her hand. This can be interpreted as a sign of weakness. (Or if she grabs your hand squeeze hers really really hard until she cries. This will impress her by showing her what a strong man you are.)
3. Once a month sneak up on her from behind and knock her over. Girls are like dogs. They love to be roughed up.
4. Call her in the middle of the night to ask if she's sleeping. If she is, say you better be. Repeat this 4 or 5 times until morning. This will show her you care.
5. When she is upset about something, suggest to her that it might be her fault. This will pave the way for her own personal improvement and every girl needs some improvement.
6. Recognize the small things . . . they usually mean the most. Then when she's sleeping, steal all her small things and break them, because jewelry is for pussies and Asian ladies.
7. If you're talking to another girl, make sure shes looking. When she is, stare into her eyes mouth the words "fuck you" and grab the other girls ass. Girls love competition.
8. Introduce her to your friends as "some chick". Women love those special nicknames.
9. Warm her up when shes cold...and not by giving her your jacket... Then you might get cold. Rather, look her in the eye and say "if you don't stop bitching about the cold right now you're going to be bitching about a black eye." The best way to get warm is with fear.
10. Take her to a party. When you get there shell have to go to the bathroom (they always do). Leave immediately. Come back right when the party's dying and yell at her the whole way home for ditching you at the party.
11. Make her laugh. A good way to do this is if she has a small pet. Kick the pet. I always find stuff like that funny. Why shouldn't girls?
12. If you care about her never ever tell her. This will only give her self confidence. Then you can never turn her into the object she deep down desires to be.
13. Every time you're in her house steal one of the following: shoes, earrings, or anything else that comes in pairs. Only take one of the pair. This way shell go crazy.
14. Give her one of your t-shirts......and make sure it has your smell on it. but not a sexy cologne smell. A bad smell. You know what I'm talking about.
15. Titty twisters and plenty of them.
16. If you're listening to music, and she asks to hear it, tell her no. This way she'll think you're mysterious.
17. Remember her birthday but don't get her something. Teach her material objects aren't important. The only thing thats important is that she keeps you happy. And your happiness is the greatest present she can ever get.
18. When she gives you a present on your birthday, Christmas, or just when ever, take it and tell her you love it. Then next time you know she's coming over on a trash day leave the trash can open and have the present visibly sticking out of the can. Girls actually don't like this one that much but I think it's funny.
19. If shes mad at you for not calling her when you say you will promise her that you will call her at a certain time of the day. This will make sure that she waits by the phone. Tell her when you call you're going to tell her a special surprise. Now shell be really excited. Now don't call.
20. Next time you are having sex, make sure you get off before she does, then get off her and leave. Girls love that.
- FFL -
-
Sugar ass.
-
Sexy videos.
-
Punched out.
-
Hot brunette.
-
License to kill.
-
Don't be afraid.
-
Michelle Sweet.
-
What a great fall.
-
He loves paintball.
-
Neat chopper bikes.
-
Some crazy spiders.
-
Funny school prank.
-
PETA'S goriest video.
-
Some great galleries.
-
This is porn censored.
-
Batwoman is a lesbian.
-
Final Superman trailer.
-
Tan while you shower.
-
Wonder how old this is?
-
Teen spreading that ass.
-
Semen loaded water gun.
-
Matt Hughes gets busted.
-
Maybe for the girl viewers?
-
Learn how to do a backflip.
-
Da Vinci prequel to happen.
-
Homemade porn is the best.
-
Crazy bitch killed eight babies.
-
"Cute boy seeks mommy/girlfriend"
-
Jack off and type at the same time.
-
What straight male would wear this?
-
Hello, I want to be raped and/or murdered.
-
Skateboarder jumps over the wall of China.
-
Damn, you thought she was naked too, huh?
-
I don't think this is Salma Hayek. (It's hot though)
Archives will be up soon.
---